Day 3 brought us into Anchorage. Beautiful views in every direction, but the city itself is kind of a shocking metropolitan meets rural sprawl. Beo and I talked about how in some places where the land is so plentiful and so beautiful, there's almost too much room for civilization. People don't know what to do with it, so parking lots sprawl wider, buildings are built, abandoned, and forgotten, then new ones built again. Beo's aunt and uncle live in Anchorage, so after lunch and another search for gear, we headed to their place. We had dinner at a local restraunt, then saw some of Anchorage's sights. The salmon run was just trickling, but we did see people lining the rivers where they run, and pulling one out occasionally. I really had trouble with the salmon issue. It just doesn't seem right to pull them out of their life and death struggle to reproduce, when they're so plentiful for the taking and weak from their run. It doesn't seem sportsmanlike.
Day 4 was kayking day. Finally! This is the big event that we had planned out. We had a beautiful drive along the coast and into the Portage glacier valley. This area was my favorite along with being in the Alaska Range with Denali. Mountains all around, ice blue glaciers majestic in the valleys, just feeling enveloped in the astounding beauty of nature. We took the tunnel to Whittier and geared up for our trip. The 'fjord' we were in was called passage canal. It was a misty day but the ocean was perfectly calm and it wasn't too warm out on the water. I loved learning the rythym of kayaking. There were bald eagles everywhere. We briefly saw a small harbor seal on the shore. Waterfalls emboldened with Spring melt ran down the sides of the cliffs. We stopped for lunch at a quiet beach and skipped stones with our guide. Then we crossed the fjord, about a mile crossing, and started back along the other side. The waterfalls on this side were breathtaking.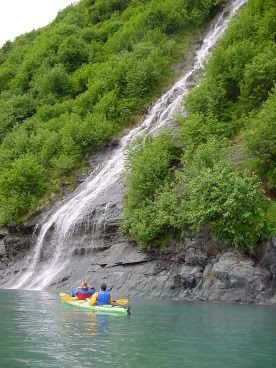 In the kayaks, we could get right up into the spray. In the first picture my sister and her friend are approaching a waterfall. The second shot is taken right from the bottom of that fall.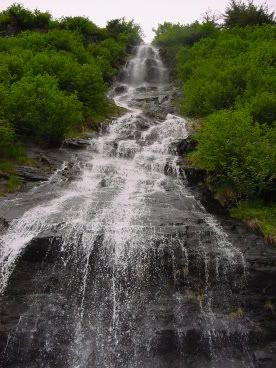 In On this side of the fjord there is a Black legged kittiwake rookery. Thousands of birds nest on the cliff face, regurgitating a substance that allows them to stick their nests right to the rock. It keeps them safe from most all predators except the ever present eagles.
By the end of the trip I was definitely tired, but I still would have liked to have had more time on the water. If you ever want to go sea kayaking in Prince William Sound, I highly reccomend
Alaska Sea Kayakers
.
Beo and I took a hike up to one of the glaciers on the other side of the pass after our kayaking trip. On the way back to Anchorage we saw dall sheep. We stayed again
Inwith Beo's aunt and uncle (amazingly gracious hosts), and the next morning made a straight shot back to Fairbanks, and flew home. It was hard to leave that beautiful place. In Alaska, you can
feel
that the land just goes forever--that that pristine beauty goes off in each direction for further than you can possibly imagine. I look at how much beauty we saw, and how much distance we covered in our short trip, and it's just a fraction of Alaska. It is positively tragic that this is the "wasteland" that ANWR drilling backers describe. Fairbanks is the northernmost 'real' city in Alaska, and my sister's girlfriend lives even further north on the highway. They say that there are already trucks heading up with heavy equipment. The Alaska I saw was the most heavily populated and traveled part of Alaska, and still one of the most wild and beautiful places I've ever seen. I pray that we can protect the magnificence of the wilds of the state as well.
As our plane took off, I felt a real sorrow at leaving my sister, and the beauty of Alaska behind. Beo got my attention and pointed out the window, there above the clouds, was the Alaska range, perfectly clear in it's beauty, revealed now that we were above the clouds which had kept so much of the magnificence hidden. It was a regal parting. Before we went to Alaska, I presumed we would never go back. Now, I know we will go back, hopefully many times.